INTO THE HEART OF THE MYSTIC MOTHER
6 nights / 7 days
Monday 28 Sep – Sun 4 Oct 2015
Narayani Peedam, Thirumallaikodi
Tamil Nadu, South India
Dive into the ocean of Bhakti in India, the mystic source of yoga, mantra and devotion. Experience the ancient wisdom of Vedic philosophy and the blessings of unconditional love through the presence of a living saint, Sri Sakthi Amma.
Set in the magical realm of Narayani Peedam, a spiritual oasis in South India, the retreat offers an intimate experience of sacred temples and love in action. Edo and Jo will guide you in a heart-opening adventure through yoga asana, mantra, devotion, kirtan, puja, seva and vedic philosophy. An opportunity for deep transformation and rejuvenation held safe in the cocoon of Mother India.
This India retreat is for those who wish to dive deeper into their spiritual / yoga practise, learn more about vedic practices, mantra and chanting; and those who simply wish to immerse themselves in the vast ocean of Bhakti.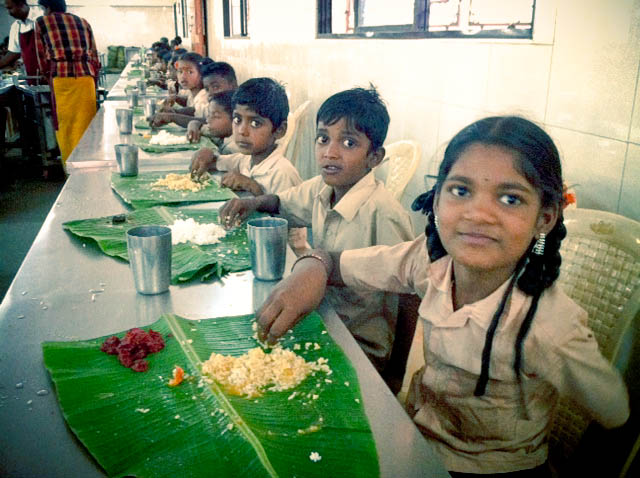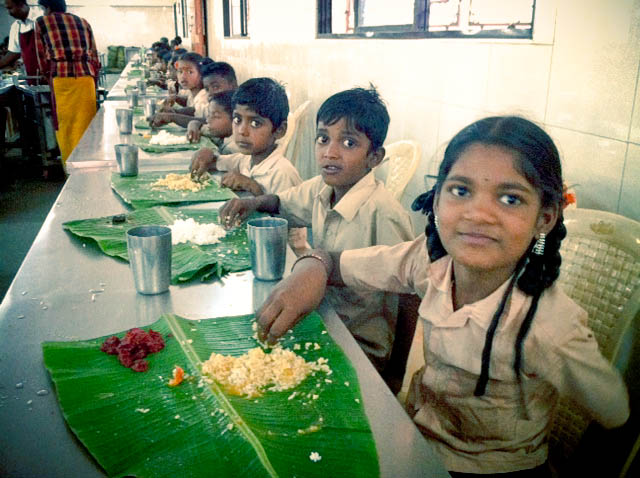 What it includes
Bhakti Yoga – Union through devotion. Experience the path of Bhakti as a journey of surrender and offering of love to the divine, as a means of realizing our true nature.
Seva – Yoga in Action. We will have an opportunity to feed those in need, and connect with children in an orphanage and rural schools.
Vedic Fire Ceremony – We will take part in a deeply purifying and energising ceremony at the Sripuram temple, conducted by vedic priests.
Kirtan – Opening the voice and connecting to the bliss within through this devotional yogic practise.
Puja – Experience a range of vedic ceremonies filled with heavenly colours, scents and sounds. These pujas are performed as prayers for peace, prosperity and wellbeing for the world and all present.
Mantras – Deepen your knowledge of these tools of the Soul. You will learn mantras that you can practice in daily life and which can enhance your yoga practice and/or teaching.
Vedic Philosophy – Experience Vedic culture and learn about the philosophy which underpins yogic practices.
Being in the Presence of a living enlightened Master – A rare opportunity to personally experience the grace and blessings of Amma. We can learn and accumulate knowledge from books and scriptures, but nothing compares to the direct teachings and contact with a living embodiment of love and sainthood.
Meditation – You will learn the profound and simple Chakra Meditation using the bijams (seed mantras) as well as opportunities for walking meditation and sitting meditation in different parts of the temple.
Yoga Asana – Yoga asana will be practiced to help the body imbibe and contain all the beautiful experiences.
Vocals & Harmonium – Opening the voice and (for those who wish) to learn learn the basics of harmonium.
Bhakti Yoga Philosophy
Bhakti Yoga is the ancient Vedic path of unconditional love, surrender and devotion. Bhakti Yoga expands one's self-awareness and self-love increasing creativity and serenity. Through the various practices, the mind is calm and the heart is at peace, giving rise to a more dynamic capacity to respond to life's challenges and demands artfully and effectively. Bhakti Yoga creates a sense of deeper connection to yourself and the world around you, revealing your deepest nature, 'Bliss'. As consciousness expands through these simple practices, it reveals those unsustainable habits and patterns that are holding you back from fulfilling your true potential.
Service (Seva)
Yoga in Action. We will have opportunities to share in the joy of giving (karma yoga or seva) through feeding those in need, nurturing our world through an incredible environmental program and visiting village schools and an orphanage. Our hope is that everyone will leave this retreat with the inner experience and knowledge that we are all able to share our individual gifts with the world and realise the purpose of our birth.
Price includes:
6 nights / 7 days accommodation in Peedam
3 vegetarian meals / day
Tuition Fee
Orphanage trip / Hike to Mountain
New Moon Vedic Fire Ceremony conducted by Vedic Priest
10% proceeds will go towards sponsoring children's education at the local school and A SOUND LIFE, a charity providing free music and yoga to those in need
Not included:
Travel costs – airfare, visa, travel insurance (compulsory), and airport transfer (we can organise this for you, but you can pay your driver individually or as a small group if you share a car).
About Shakti Amma and Peedam
Narayani Peedam is the home of Sri Sakthi Amma, the incarnation of the Divine Mother. It is located in the village of Thirumalaikodi, about 15 minutes drive outside the town of Vellore (approximately 150 kilometers from Chennai), in the state of Tamil Nadu in South India. It is surrounded by mountains and scenic beauty.
Amma's charitable foundation comprises of several temples, as well as the new Golden Temple and spiritual oasis, called "Sripuram", often referred to as the 8th Wonder of the World. See below for a 7 minute tour of Sripuram on Youtube.
In addition to these temples, there is also a food hall providing free meals, a hospital, orphanage, guesthouses, schools, nursing college, recycling plant and afforestation programs. Amma is devoted to uplifting the world through daily prayer and humanitarian works. Amma is the source of everything we do!
Getting to Peedam
The closest airport is to Chennai (Madras). Peedam is located near Vellore, Tamil-Nadu, which is about a 3 hour drive (145 km) south-west of Chennai depending on traffic. Next closest airport is Bangalore. It is 4-5 hours drive to Peedam. If getting a driver, it is best to leave early morning to avoid traffic. If you arrive late at night and would prefer to stay in Chennai for a day, we can recommend some great hotels. Once you have registered, please send us your exact itinerary and we can arrange for a driver to pick you up from either your hotel or the airport.
Official Start Time
The official start time of the retreat is 5pm in Peedam on Monday 28 September 2015, which allows for plenty of time to arrive and check in Peedam.
Meals
Three vegetarian Indian meals will be served each day (no eggs, but dairy products are used). All meals will be eaten in the dining room where food is served buffet style. Indian and Western food options available. Drinking water is also available. There are restaurants on the street and coconut vendors for purchasing additional/alternative meals.
Please let us know about any special dietary requirements / allergies you may have.
Accommodation
Kamala Nivas (The Lotus House) and Sripuram New Guesthouse offer clean and very comfortable ashram style accommodation. The rooms are spacious, air-conditioned, en-suite rooms with western style bathrooms and hot water designed to accommodate two people on king-size single beds. Bed linen is supplied but please bring your own towel and toiletries. If you love your own linen / pillow then you are welcome to bring. Wifi is available.
 
Pricing
To reserve your place on the retreat, a non-refundable deposit of $500 is required.
Twin Share
AUD $1400 early bird (booked and paid in full before 1 April)
AUD $1500 after 1 April
Single Room
AUD $1600 - early bird (booked and paid in full before 1 April)
AUD $1700 after 1 April (limited spaces available)
Booking and Enquiries
You can now book and pay online at our shop - Click here.
Any questions please email Edo and Jo at info@edoandjo.com.